Realistic Interior Photography Backdrops
Transform your studio photographs into spectacular portraits with interior photography backdrops by Photo Pie! Our interior backdrops don't simply offer a flat wall to frame your subject against; instead, we provide you with dynamic interior backdrops that transport your subject into an entirely different space.
Our photography backdrops stand out because of our unique style that makes use of
forced perspective
and realistic images. Combined with the correcting lighting for studios and creative photo angles, you can create amazing shots that are a far cry from the typical studio portrait.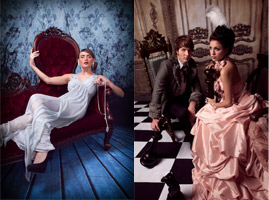 Choose from a wide range of interiors for your custom photography background. Aside from simple scenes featuring a floor and a wallpapered wall in your choice of colors, we also offer distinctive interior backdrops featuring classical architecture, ink-painted screens and modern furniture.

The backdrops found here at Photo Pie are washable, wrinkle-resistant, color-fast, seamless, non-glare, and vibrant. Because we offer these in various sizes and cloth types, our photographic backdrops are perfect for special events and even theater productions.